I have listened to Teddy Thompson's rendition of Leonard Cohen's "Tonight Will Be Fine" five times already today. It was the highlight of
Leonard Cohen: I'm Your Man
for me. I can't seem to get enough of Teddy. His album keeps popping up in my CD player, even more after seeing him play a marvelous solo acoustic set opening for Mason Jennings. He sounded just wonderful, and his guitar playing was unbelievable. Here comes the sixth playback.
It's been over a month since my last post, but I couldn't let July slip away without one. I've felt guilty about not updating, but I've just been lazy and work has become less conducive to blogging. They moved my workstation to a more general work area so I have less privacy. In fact, my computer screen is within viewing distance of the newly hired director, so surfing the net has become a covert activity of sorts.
There isn't much to report. I'm still working, but I'm trying to wind it down in the next couple of weeks and concentrate on the job search. I think I'm using the "too busy" excuse too often in regards to finding a new job, so once I stop working I can no longer use that excuse. So right now I'm just focusing on work and holding off for a couple of weeks to begin my job search in earnest. We'll see how it goes.
Running and working out has been my other preoccupation since finishing school. I'm trying to lose the last fifteen pounds I've been wanting to shed the last four years. I can't seem to do it. Right now I'm down to about 162-164, roughly 10 pounds from where I think I should be so I can have a flat stomach. A lot of it has to be eating correctly, something I don't do. I thought I'd reach my goal weight by the 4th of July. That holiday has come and gone and I still have a little ways to go. However, my running is going well. I don't have a specific race yet I'm training for, but I'm sure I'll be doing a marathon in the fall. Long Beach is an option, but I'm also considering the Auburn trail marathon or even Las Vegas. I think I can do Long Beach in October and still be fit enough to do Las Vegas in December.
The best part of my summer so far has been all the great shows I've seen. For a while it seemed like I was at the Echo every Friday seeing Cold War Kids/Tapes 'n Tapes, Band of Horses, the Submarines/Little Ones. All terrific shows. Cold War Kids/Tapes 'n Tapes are tops so far, but Teddy Thompson's set earlier this month was transcendent and Little Ones were a delight.
Here are a couple of pics:
Tapes 'n Tapes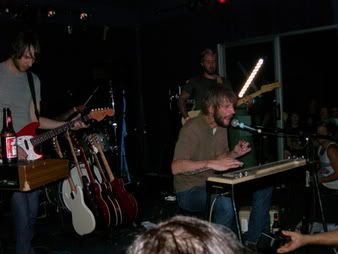 Band of Horses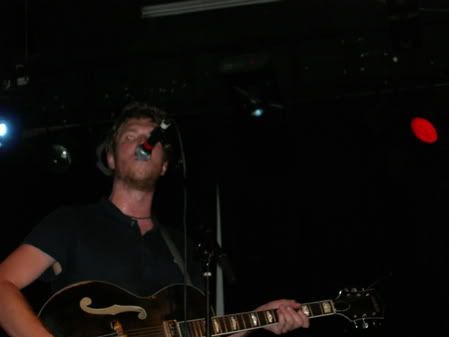 The Walkmen
Also, here's a pic from after the Mud Run: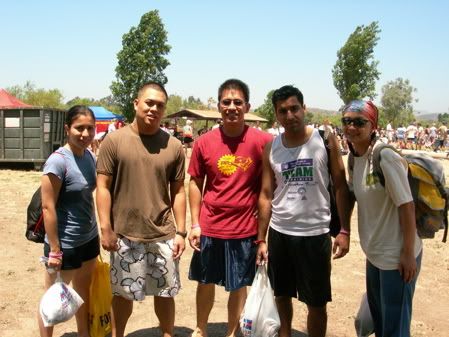 Anyway, I'll try to be a better blogger from now on. I just need to make it a habit to post before bed instead of looking at porn. =)