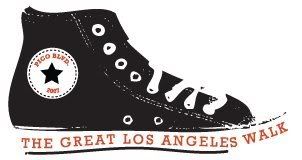 Next weekend I will be doing 15 miles--the longest I've done since the San Diego Rock N Roll Marathon in June. Instead of running, though, I will be walking.
I am participating in the
Great Los Angeles Walk
organized by Mike and Maria over at
Franklin Avenue
. On Saturday, starting at 9AM, we will be walking the entire length of Pico Boulevard from downtown to Santa Monica--all 15 miles or so of it. This is the second year of the Walk. Last year the crew walked the entire length of Wilshire Boulevard, but this year's walk should draw more participants.
If you want to join us, e-mail Mike and Maria at franklin_avenue@yahoo.com. You don't have to do the entire distance--you can do all or just part of the walk.
Check out the
Great LA Walk
website for details. I can't wait!