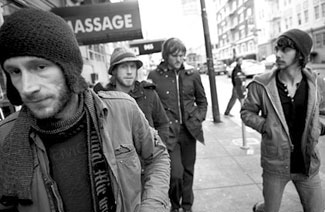 Liz and I ventured to Los Angeles last night to see the Cold War Kids headline the El Rey Theater. I had tried to get tickets to their show at Spaceland last month, but the employee at Sea Level Records laughed at me for even thinking I could get tickets so late. Apparently Cold War Kids have taken off in popularity, and the sold out crowd at the El Rey was proof. The place was packed, and they were not the typical indie rock fans one sees at smaller venues. I think hipsters outnumbered geeks last night.
As for the show, Liz and I got to the venue just as the Delta Spirit were wrapping up their set. I was impressed by them when they held a residency at Spaceland a couple of months ago, and based on the one, raucous song I heard as I came in, they were in fine form. They were joined by a couple of the Cold War Kids in the last song and they returned the favor later on when they joined the Kids on stage for a song.
Two Gallants, a band I'm only familiar with based on the song ("Anna's Sweater") they contributed to the 2005 Believer compilation, followed shortly. They were awesome. As their name suggests they are a duo, guitar and drum, but they rocked the El Rey with no problems. They have an old, bluesy sound, kind of like the White Stripes except with a rough, folky feel. The songs stretch out for over ten minutes at times, which is fine by me, powered by guitars and drumming that chug along like a locomotive. Their set certainly piqued my interest, so I'll have to scour for their album from last year.
As for the Cold War Kids, they strode onstage confidently and they delivered. When I saw them last year, the Echo's tiny stage barely contained the band and their flailing bodies. The El Rey's stage is much bigger and allowed the band to fully flop and flail. I still sense a little bit of "performance" from them, as if the tent revival energy they give off is just an act. When they performed Sam Cooke's "A Change is Gonna Come" for their encore, it was easy to recognize the gap between genuine soul and what, I guess, I'll describe as "soulful vibe." Still, they delivered a thoroughly entertaining set. The band's songwriting is strong and will likely improve over time. For every song that doesn't quite work, like "God, Make Up Your Mind," they have a song like "Hospital Beds" or "Hang Me Up to Dry" that hit their target with ease. The set, like I said, was enjoyable, the musicianship tight and strong, but it really only
seemed
revelatory.