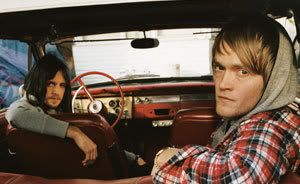 Download:
Two Gallants - Seems Like Home To Me
The music of
Two Gallants
is purposely anachronistic, something they perpetuate with their ceaseless touring and haven't-slept-a-wink-in-days stage presence. You almost get the sense that Two Gallants--Adam Stephens and Tyson Vogel--long for a rootless existence that is just about dismissed in these times. The songs--Guthrie-like in nature--sound as if they come from grizzled and bruised veterans of the hard-luck life, not from two twentysomethings from San Francisco.
"Seems Like Home To Me," a song from an EP released earlier this year called
The Scenery of Farewell
, captures the essence of Two Gallants. A lot of the Gallants' songs speak of restlessness and unceasing movement, and in "Seems Like Home To Me" this thirst for freedom lays waste to the possibility of love and stability. It's all a vicious cycle as what makes the road so appealing is the promise of the destination and the sweet melancholy of leaving behind something good:
Baby, let your light shine on me
When I'm lost on the road
You know you could set me free
You could ease my load
There's something that I lack, it just won't let me be
I've been gone so long, it seems like home to me
As evocative as their songs are on record, they sound even more fiery live as the duo's ragged, messy playing provides them with a worn glory. Two Gallants first came to my attention a couple of years ago when they performed a cover for The Believer magazine's music issue, but it wasn't until I saw them open for Cold War Kids earlier this year that they pricked up my ears. A new
self-titled LP
is due from Two Gallants later this month.