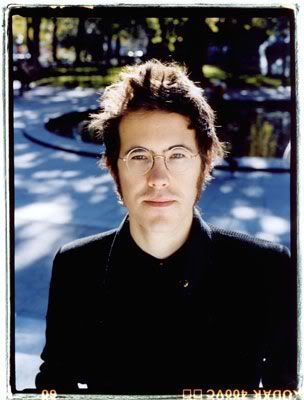 [Photo by Sam Erickson]
Download:
Elvis Perkins - "While You Were Sleeping"
This week's Song of the Week is tardy because I was in San Diego running a marathon. Better late than never, I say.
FJ recently nominated Bright Eyes' "If the Brakeman Turns My Way" as a future Song of the Week, and while I love the song and may consider it for a future installment, I am instead going to choose a different artist and song FJ brought to my attention:
Elvis Perkins
's "While You Were Sleeping."
Practically every piece of media on Perkins mentions his Hollywood heritage--the son of
Psycho
star Anthony Perkins and photographer Berry Berenson--and the fact that both of his parents endured notable deaths, his father from AIDS-related causes and his mother as a passenger on American Airlines flight 11, which crashed into the World Trade Center on 9/11. The fascination with his backstory would be mere media nosiness if it wasn't for the fact that Perkins, himself, seems to reference his parents' deaths in his songs. "While You Were Sleeping," in particular, seems to address 9/11:
While you were sleeping
You tossed, you turned
You rolled your eyes as the world burned
The heavens fell, the earth quaked
I thought you must be, but you weren't awake
It's not simply about 9/11, but as the opener to his debut,
Ash Wednesday
, the song establishes the album's predominant theme of the soul's resilience in the face of unquantifiable grief. "While You Were Sleeping" and the album's other songs are indelibly melancholy but it is a testament to Perkins's songwriting and singing that they never verge on depressing. Perkins's voice has a lazy, wearied quality that sounds resigned to the trials and tribulations of life, and the songs, rather than surrender to the hardship of life, affirm the virtue of living even in the presence of heartwrenching loss.
"While You Were Sleeping" is my favorite song from the album. For a while I thought it was the title track, but "While You Were Sleeping" is a hypnotic, haunting lullaby that I can't get out of my head. It starts quietly and gradually builds, instrument by instrument, but never rises above a well-paced amble to become a comforting, suprisingly inspirational song. It comes to life near the end when horns carry Perkins's words towards a flowing stream of imagery, the song rushing forward as Perkins sings, "Thank God you're up now/Let's stay this way/Else there'll be no more mornings/And no more days." And when the song drifts off it does so with a sweetly pained series of "oh's".
The song, from what I gather, is about all the things--the very imminent to the distant--that loom over us in our daily lives. It's also about what is missed in life ("While you were sleeping/ Your babies grew") and how the most significant events in life transpire while we have our eyes closed. Perkins's impressionistic lyrics don't offer direct explanations, but they do offer suggestive images of life that is unpredictable yet fair. Ultimately the song is a
carpe diem
song minus the overzealous optimism. Life can be harsh, Perkins argues, but the best way to cope is to simply live on.
[
Note: It seems fitting that I fell asleep while trying to post this late Monday night.
]