...Go see
Avenue Q
!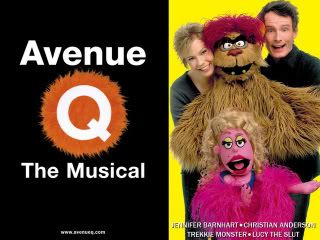 Team in Training/Eating folks took in a night of theatre last night and enjoyed--immensely--
Avenue Q
,
currently playing through Sunday at the Ahmanson Theatre
. It's a guaranteed good time--that is, if you're not offended by profanity, mature themes, puppet sex, and the use of stage fog. There's still time to see it and it can't be more highly recommended!
Afterwards we had a late dinner (11pm) at Pete's on 4th and Main. I had a burger and fries. Yum.