Last night I joined my friend Chris for a GQ event at the Saks Fifth Avenue store in Beverly Hills. It was a shopping event--commemorating GQ's 50th anniversary--where you earned Duke points for every dollar you spent. Spend at least $500 dollars and you are eligible to purchase various items with your Duke points. Needless to say I really only came for the company, the drinks, and the hors d'oeuvres.
Chris and I bought nothing but we had a blast scoping out all the pretty men--and there were plenty of them to see. I love pretty men, but they're not really my type. I like men who are more natural and rugged. And I like them nerdy. Still there was some good eye candy.
All in all it was a fun night even though we bought nothing. I felt out of my league there. I didn't even want to try anything on because I knew there was nothing there I could afford. I'm a strictly clearance rack kind of guy. I like to tell myself that even if I was rich I wouldn't be so extravagant in my spending. I enjoy having money, but more than that I enjoy knowing I got good value out of my money. Throwing $61,000 for snake skin luggage isn't good value, I think.
* * * * *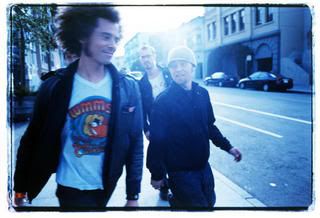 I also won a pair of tickets last night to go see Rogue Wave at the El Rey Theatre. Since I was going with Chris to the GQ event and I couldn't find anyone to go with me to the show, I had set my mind on not going even though I enjoyed their show two years ago. As it turned out, though, Chris and I parted ways in Beverly Hills at 9:45 and the El Rey is only a couple miles drive from there. By the time I get there, I figured Rogue Wave would just be going onstage, so I headed down, picked up my tickets and went in. It was perfect timing. No sooner than two minutes later the band took the stage.
I'm glad I went even though my legs were exhausted from all the walking and standing from the GQ event. Rogue Wave was great and all the songs, especially "Lake Michigan," sounded spectacular. They even performed "Eyes" during their encore. I have yet to listen to the new album, but based on the couple of tracks I have heard it is a stellar follow-up to
Descended Like Vultures
.
This morning Rogue Wave also performed on "Morning Becomes Eclectic."
Their performance--which includes a cover of Split Enz's "I Got You"--is archived here.