It was bound to happen. As much as I wanted Goil to stay around and impress me with his choice in eyewear and his variations on the v-neck t-shirt, he had no chance of winning. He's not so much a designer as an idea guy. The judges pointed out that he has a hard time designing a complete room and instead focuses too much on one design idea. He did so again in last night's episode. The room was a little more complete, but he got hung up on the giant border that encircled the room and took the "fire" inspiration too literally. Goil got points, though, for pulling the hardest element of the four.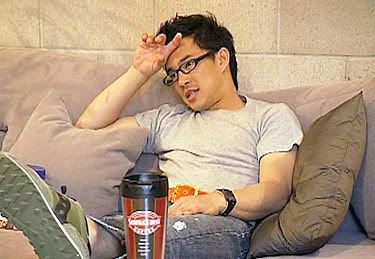 I think Andrea had the worst room last night. It was a mish-mash of design with some earthy elements thrown in to address the challenge. Andrea, though, was a better designer than Goil and I certainly believe she deserved to move on based on her past performances, but I wished Goil had delivered at least one knockout room all season long.
As for the other two remaining contestants: Matt has proven to be the best of the bunch. He's a very likable guy and a tasteful designer. However, I still find myself doing a double take whenever he mentions that he's married with a daughter. Homo say what?
Carisa, Carisa, Carisa. How did she make it this far? Her room last night was fine, but there was nothing airy about it. She should have been eliminated long ago for the room she won for. She's an OK designer but what really makes me dislike her is her attitude. The woman rolls her eyes way too much and treats others awfully. I'm not for violence but I'm tempted to smack my TV whenever she rolls her eyes. I'm sure Jonathan Adler's question, "Who have you had a good relationship with?" during next week's preview was aimed at her.
My favorite to win: Matt.
A quick note: The New York Times had an amusing article yesterday about
homes becoming romantic dealbreakers.
My favorite was the one who couldn't get over his date's trite choice of posters: Gustav Klimt's "The Kiss" and a Robert Doisneau photograph.
Boy, what's the point of blogging when all I do is reference NY Times articles?