I haven't seen the entire finale of "Top Design," but I did catch a little of it and the final decision. Of course, the winner was Matt, who coasted through the whole competition with his tasteful design ideas. Since I haven't seen the finale, I can't fully comment on whether Matt deserved the win or not. If it was a cumulative thing, Matt deserved it over Carisa regardless of how his loft looked. So, instead of an analysis of the finale, I'll spend a few moments bashing Carisa.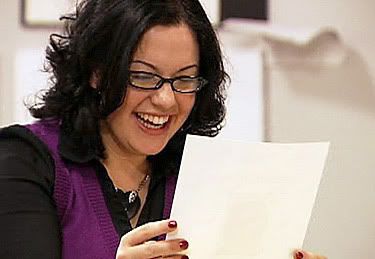 There is no way I can accept that Carisa was the second best designer in the show. I can name two or three early eliminees who were easily better than Carisa. A finale between Andrea and Matt would have been more appropriate.
So how did Carisa get to the finals? Well, as mediocre and predictable as her designs were, they did present a consistent perspective that gave her an identity over the other contestants. Most of all, though, she never screwed up the worst. When she did there was someone else who screwed up more, like last week when Andrea's dull furnishings marked her for elimination. I'm still reeling from her surprise victory with her uninspired dorm room.
Carisa was not an awful designer. She's quite good, but she wasn't impressive. Her rooms tend to look like IKEA model rooms. I would firmly put her in the middle of the pack. What really irritated me about her as a finalist was how annoying she was and how badly she treated those around her. She claimed that she's "expressive," which might explain the eye-rolling, but how does she explain the passive-aggressive behavior? The show made her carpenter, Carl, look like a rogue carpenter, but I can almost understand his defensiveness. The woman just doesn't know how to deal with people.
I also don't know what to make of her comment last night that she's glad that Matt won because he would have been devastated otherwise. He should be devastated if he lost to a hack. Carisa made it sound like that Matt can't handle defeat while she's more grounded and able to bear the sting of loss. Again, I haven't seen the episode, so I might be taking her comment out of context.
Overall, "Top Design" was a good effort. It's nowhere near the caliber of "Project Runway" or even "Top Chef." It suffered from some dubious decisions by the judges (kicking a contestant off for a paint choice that wasn't all that bad? another for including an afghan?). I did like the judges, though, for their personalities, and I don't care what others say, Todd Oldham was an excellent host. Not quite Tim Gunn, but I liked how helpful and supportive he was. If the show comes back, I hope he comes along with it and brings Amy Sedaris in for an episode.
I also caught Bravo's new show, "Shear Genius." I don't know a lot about hair, but I can't imagine the different challenges they can come up with for the contestants. I'm predicting it's going to be the silliest of Bravo's stable of reality shows but I did enjoy Jaclyn Smith and her signature kiss off to the eliminee: "That was your final cut."
Last night,
Paul-Jean
, the Warren Beatty look-a-like with the questionable French accent, was eliminated with his horrible styling that looked like three different colored wigs fastened to his model's head. The winner was fresh-faced
Theodore
with a lighthearted hairstyle that incorporated a treasure chest. It actually looked wearable and--unlike others--not painful. My choice, though, was
Daisy
with her dramatic bridal hairstyle.
I wonder what's next for Bravo. "Top Butter Carver"?