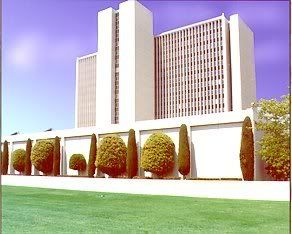 The Los Angeles Times reported today
that the Federal Building in Westwood will likely be demolished to make room for two new towers to provide the FBI with more work space. Strangely, the larger area would accomodate fewer employees.
I'm sure most folks echo
LAist
's sentiment and see the Federal Building as "hideous." I wouldn't go so far as to call it hideous, but I am ambivalent about it. I do see the building as architecturally uninteresting, certainly of a type built in the 1960s and 1970s. It was built for service not for beauty. However, the building does have character. It's a solid, imposing structure that
looks
like a federal building. Its grid of office windows, something I don't see in newer buildings, softens the building's bureaucratic austerity a little by being so run-of-the-mill, as if to suggest that it's a government building but it was humbly serving the people. As an undergraduate at UCLA, the building served as a landmark for me that I was entering Westwood. Drive east on Wilshire from Santa Monica and the building is at its most striking as you crest the hill through the VA grounds.
It's unlikely the building will be saved for its architectural significance. Historical significance may be a losing argument as well. What might save the building is the NIMBY displeasure of Westside residents who fear the construction of a larger FBI facility may attract terrorists and would add even more traffic to the area. Those reasons and the simple fact that Westsiders tend to be cranky about a lot of things. The arguments, though, seem misguided. I'd love for the Federal Building to stay, but I can't really think of a good reason why it should.